Vancouver's development plan lacks public input
Opinion: If you haven't heard about it, you're not alone
By Elizabeth Murphy, Special to The Vancouver Sun May 24, 2013 4:17 PM
Read more: http://www.vancouversun.com/business/2035/Vancouver+development+plan+lacks+public+input/8432633/story.html#ixzz2UKFFsAAH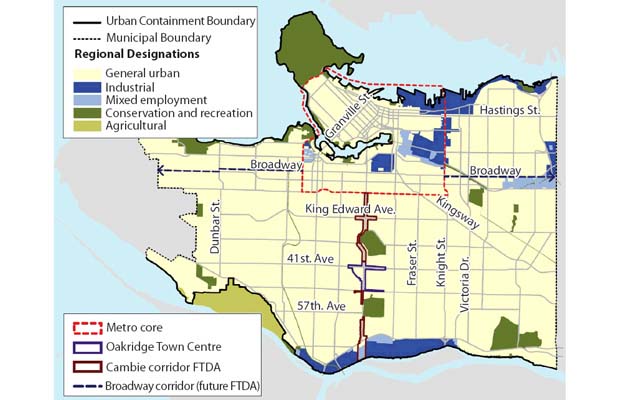 Caption: The Official Development Plan and Regional Context Statement plan will direct all development in the city for the next 30 years. Photograph by: Vancouver Sun graphics ,
Vancouver's over-arching plan that will direct all development in the City of Vancouver for the next 30 years has been referred to a June 11, 2013 public hearing without prior public input. This is where all of the city's development and land use policies are bundled up into one document and presented with a plan to Metro Vancouver (the Region, GVRD) for approval.
Called the Official Development Plan and Regional Context Statement, the plan is second in importance only to the Vancouver Charter, which legally governs the city.
City hall has been working on these plans with the region, province and TransLink under the public radar for more than a decade. It continues to present them as merely procedural, even though they will affect the future of every neighbourhood and every citizen of Vancouver.
Our previous regional plan was the very successful Liveable Region Strategic Plan. The current regime replaced it with the Regional Growth Strategy in July 2011. Within two years, by July 29, 2013, every municipality in the region is expected to submit its own plan to show how it intends to achieve the growth strategy goals set out in the Regional Growth Strategy.
Each city's draft plan must be submitted to the region for approval accompanied by TransLink comments. The region is required to ensure TransLink's plans are supported by the city's plans, thereby increasing Metro Vancouver, TransLink and provincial influence into our Vancouver civic land use authority.
Darlene Marzari was on city council with TEAM from 1972 to 1980. She was elected to the provincial legislature from 1986 to 1996, and served as Minister of Municipal Affairs for 2½ years. About the proposed plans, she says "Fifty years ago I fought a highway through Strathcona and advocated for neighbourhood involvement in land use decisions. The wheel has turned full circle. The issues are the same today."
Marzari further explained, "It should be of great concern that Vancouver would jeopardize its stewardship and legal responsibility for zoning. Promising TransLink a role in the zoning process and decision making of how our city grows takes us towards the slippery slope of provincial jurisdiction overriding the Vancouver Charter.
"Ramming through an expensive transit option that is funded by massive development that would wipe out whole communities with their affordable rental units and close down local area planning processes for which we have received international acclaim. Vancouver's ideal of planning is not served well by pandering to megaprojects without respecting existing communities. Neither is democracy."
The Vision Council is pushing this plan through quickly and quietly; if you haven't heard about it, you are not alone.
To compare, the city has scheduled three open houses for public input into traffic changes along Point Grey Road before proposing a final plan. Shockingly, for the Official Development Plan and Regional Context Statement for the entire city, there has been only one poorly advertised and sparsely attended open house, not scheduled until after the plan was already finalized for public hearing.
Former TEAM city councillor Marguerite Ford attended the open house and concluded, "I am very concerned about the lack of public input into the plan, the lack of consideration of local area plans, and the lack of demonstrated understanding of land use economics."
She gave examples of where increased development pressures will result in demolitions of heritage and older affordable rental housing in favour of towers in Chinatown, and residential towers will impact land economics on adjacent industrial land at Marine and Cambie.
The city is claiming that this plan does not need public consultation because it is based on policy that has already had consultation. However, that is not, in fact, the case.
For example, policies such as the rezoning policy on arterials and Transportation 2040 were approved without public input into the final draft and put in place with only three business days' notice before going to council for approval last fall.
Key changes in the Regional Context Statement are entirely new regional designations that makes provisions for the region, TransLink and the province to have increased influence in land use authority in these areas. The public deserves a major say in all of this, but alarmingly, has had none.
The downtown core of Vancouver has previously been designated a Regional Centre, but only as a dot on a map. Now it is an exact lot-by-lot line on the map that covers a much broader area. The "Metro Core" has been extended to include the entire downtown peninsula (including the West End, Coal Harbour, Central Business District, Yaletown, and Downtown Eastside), Strathcona, Fairview, and Mount Pleasant — east to Clark/Knight Street, north to the water, south to 16th Avenue, and west to Burrard.
Additional lot-by-lot regional designations include the Oakridge Town Centre and Cambie Street as Frequent Transit Development Areas (FTDA). The Broadway Corridor is included as a future FTDA from Boundary Road to Blanca Street.
The city is proposing increasing the city's share of regional growth in population, housing units, and jobs. However, no detailed analysis or data have been provided to justify any need for such an increase beyond what the region has projected.
Despite repeated requests from the public, the city has steadfastly refused to provide any information that could confirm or contradict their proposed interventions. So much for Vision's claim to having an open data policy.
The existing zoned capacity was traditionally used as a transparent measure in previous Regional Context Statements. It was provided to demonstrate what increased development was required to meet growth projections. Last year, council directed staff to provide this information based on a motion by Coun. Adriane Carr.
So far, after numerous inquiries and requests, the city has still refused to provide this vital data to the public. It is reasonable to conclude that it is being concealed because the existing zoned capacity is already so vast that Vancouver has enough existing zoning that it would satisfy growth for decades. We have time to plan properly.
If this plan is approved as proposed, we could have TransLink and their P3 partners pushing through mega-projects that we cannot afford and draining limited transit resources into only a few corridors. Under the Hong Kong model of funding transit with large developments, which may remain substantially unoccupied, the plan would wipe out entire heritage neighbourhoods and divert development fees to cover the province's responsibility for transit funding instead of much-needed civic amenities.
The public deserves a more robust and meaningful consultation process. We need to avoid regional designations that transfer the land use authority to TransLink and the province to carry out this misguided scheme.
Elizabeth Murphy is a private-sector project manager and was formerly a property development officer for the City of Vancouver's Housing & Properties Department and for BC Housing.