MEDIA STATEMENT
Neighbourhoods for a Sustainable Vancouver (NSV) issues post-election statement:
Significant Achievements in 2011 Civic Election
Vancouver, November 24, 2011

Link to PDF of MEDIA RELEASE
Randy Helten, mayoral candidate in the 2011 Vancouver civic election, commented today on the election outcome: "We at Neighbourhoods for a Sustainable Vancouver thank all who supported us. Considering the odds against NSV, we made significant achievements. I came in third as mayoral candidate in a field of 12, and our Council candidates all broke into the same order of magnitude as the top ten elected. We are proud that we brought to the forefront of public debate the serious problem of election campaigns being funded by interests that officials are supposed to regulate, and the need to restore meaningful public involvement in decision making at City Hall and in our neighbourhoods. NSV will continue to help and encourage neighbourhoods to make their voices heard at City Hall and to promote grassroots city-wide networking for strong and inclusive communities."
We will announce future plans soon. Below are our observations and comments on this election and its outcomes.
Appreciation, and Issues Moving Forward
1.    Mayoral candidate Randy Helten and City Council candidates Nicole Benson, Marie Kerchum, Terry Martin, and Elizabeth Murphy thank our volunteers and tens of thousands of voters for their support.
2.    NSV will continue to work for real democracy in Vancouver, and for economic, social, and ecological sustainability. We will promote better neighbourhood representation, and continue to address affordable housing, homelessness, development and zoning policy, livability and urban design, services and amenities, transportation, specifications for Metro Vancouver's Regional Growth Strategy, and related areas of interest and concern to Vancouver residents.
Voting Results
3.   Randy Helten placed third in the mayoral race, after incumbent Gregor Robertson (Vision Vancouver) and challenger Suzanne Anton (Non-Partisan Association). The votes he received (4,007 versus 77,005 for Robertson and 58,152 for Anton) appear to have been diminished by supporters of the two traditional parties who were convinced to choose a "lesser evil."
4.    Our four candidates placed well (19,644 for Murphy, 17,893 for Benson, 13,025 for Martin, and 12,613 for Kerchum), considering our rapid emergence, limited resources, short time frame, and lack of mainstream media coverage.
5.    Election turnout, though slightly improved over 2008, still stood quite low at just over 34% of eligible voters. This election's increase may be attributable in part to the real alternative offered by NSV.
6.   We congratulate Adriane Carr and the Green Party of Vancouver for their historic success in securing a seat on Council, and look forward to working to create a better city with her, the two newly-elected NPA Councillors, and the Mayor and seven Vision Vancouver Councillors.
7.    The failure of the Coalition of Progressive Electors (COPE) to elect candidates to Council points first of all to the gap in votes for Vision Vancouver versus COPE (59,125 versus 43,846 votes), which had entered a cooperation agreement. The gap suggests that the Vision-COPE relationship was not mutual: while most COPE supporters probably voted for Vision, many Vision voters apparently failed to vote for COPE. Whether this was due mainly to lack of funds or other reasons is for COPE to ponder. The values for which COPE stands are crucial to a just and sustainable city and planet. We congratulate Allan Wong (School Board) and look forward to working constructively with COPE in the future. We can dismiss the illogical notion that NSV may have "taken" votes away from COPE, because NSV enthusiastically recommended the entire COPE slate for Council.
8.    Besides recommending COPE candidates R J Aquino, Tim Louis and Ellen Woodsworth, NSV also recommended Green candidate (Adriane Carr), NPA "maverick" Bill McCreery, and independent Sandy Garossino, who ran excellent campaigns despite limited resources.
9.    We also commend all others who ran for public office, including Lauren Gill and Aaron Spires (Rent Is Crazy High, or R.I.C.H.), and Chris Shaw, Ian Gregson, and Chris Masson (De-Growth Vancouver), who helped to make the public more aware about the plight of low-income residents and the problem of unsustainable growth and consumption.
Significant Achievement Despite Limited Exposure
10.    NSV achieved significant results given that our $40,000 budget was about 1% of Vision and NPA budgets, and 10% of COPE's, the fact that our campaign was only five weeks long, that Randy Helten was not invited to participate in the mayoral debates, and the fact that we received very limited coverage in mainstream media. Vancouver residents who learned about NSV did so primarily through word of mouth, all-candidates meetings, and independent electronic and social media.
11.    News reports suggest that NPA and Vision campaign budgets may have been between $2.5 million and $5 million for each party. Vision Vancouver may have spent $5 to $10 per vote, while NSV spent less than $0.60 per vote.
12.    Many political commentators reflecting interests of the development industry received extensive media coverage. The public faced an unprecedented barrage of phone calls, paid advertising, and on-the-street promotions from both Vision Vancouver and the NPA.
13.    The NSV achievement offers significant evidence that many are disenchanted with both of the dominant parties.
14.    Vision Vancouver appears to have violated the Vancouver Charter with election signs placed prominently less than 100 meters from a Voting Place (City Hall). As of November 24, we still await a satisfactory response from the City Clerk and Chief Election Officer.
Message to Vision Vancouver: Proceed with Caution
15.    Vision Vancouver again operates with an absolute majority by controlling 8 of 11 votes on Council. Even so, they must exercise caution in future decision-making and implementation of policies. Mayor Robertson only earned the votes of 18% of registered voters, and Vision Vancouver candidates obtained support from an average of only 14%. Vision's influence on Council despite such limited support poses a serious problem for honest representation.
16.    Vision Vancouver now operates with large obligations to campaign contributors who represent the development industry, unions, and other special-interests. Vision Vancouver needs to demonstrate far greater transparency and accountability in this coming term to show that City Council gives due consideration to the interests of all Vancouver stakeholders.
17.    Regulators should never be funded by those they regulate. Systemic conflicts of interest cripple the ability of elected officials to make fair and balanced decisions. For example, the undue influence of the development industry – whose overriding objective is to maximize profit – does little to produce or protect affordable housing and combat homelessness. Vancouver puts on the most expensive civic elections in Canada, and this election set a new historic record. Campaign finance reform is required. Vision Vancouver and the NPA should voluntarily adopt regulations immediately. Looking to the Provincial Government to impose regulation shows no leadership. NSV accepts donations only from individuals and screens amounts over $100 to avoid conflicts of interest.
NSV is an elector organization based on a network of individuals in neighbourhoods all over Vancouver. For five years, the network has provided extensive policy analysis and input to City Hall regarding critical Council decisions. NSV ran five candidates for City Council in the November 19 election, including Randy Helten for Mayor; and Nicole Benson, Marie Kerchum, Terry Martin, and Elizabeth Murphy for Council.
Contact:  info@nsvancouver.ca
_____________________________________________________________
MEDIA RELEASE
NSV declares support for CCAP affordable housing, homelessness solutions
November 18, 2011

Link to PDF of MEDIA RELEASE
Randy Helten, mayoral candidate for Neighbourhoods for a Sustainable Vancouver (NSV) today declared support, in principle, for several solutions to Vancouver's housing and homelessness crisis proposed by civic activist Ivan Drury (DTES Neighbourhood Council) and the Carnegie Community Action Project (CCAP).
Drury proposes three solutions that the City of Vancouver should implement, which are also very close to the CCAP position:
1. Buy 10 sites a year in the DTES for 5 years and dedicate these sites for social housing to replace all 5,000 units of unsafe, unstable, unhealthy Single-Room Occupancy (SRO) hotel housing.
2. Close the loopholes in the SRA bylaw: Define "conversion" of SRO hotels as raising rents above welfare and pension-affordable rates of $375/month.
3. Implement an immediate moratorium on market development in the DTES to allow the DTES Local Area Planning process, not developers and market forces, to direct the future of the neighbourhood.
Source: The Mainlander (Nov. 15, 2011) (http://themainlander.com/2011/11/15/three-solutions-to-vancouver%E2%80%99s-housing-and-homelessness-crisis-2/)
NSV comment: NSV supports these proposals, in principle, with the proviso that before the city commits to purchasing a specific number of properties it should first undertake an analysis of the costs and potential sources of revenue required to purchase and redevelop or renovate the properties. It is essential that the City have stronger policies in place to keep the market value of SRO hotels as low as possible to prevent speculation-driven inflation. Existing heritage and character buildings that are purchased by the city should be restored, upgraded, and rebuilt as social housing (not demolished) to retain the character of the heritage districts.
NSV notes additional proposals by CCAP, covered in a report entitled Pushed Out:
4. Define "low-income housing" to mean affordable by people with welfare level incomes.
5. Enforce maintenance standards in hotels.
6. Allocate funds now for low-income housing in the DTES.
Source: CCAP report Pushed Out (http://ccapvancouver.files.wordpress.com/2010/09/ccaphotelreportweb.pdf)
Comment: NSV supports these proposals, in principle.
On the topics of housing and homelessness, Helten also noted the following.
All of Vancouver's current non-market housing initiatives were actually started last term under the NPA.-led Council. Mayor Robertson has not made any significant gains in building new social housing.
In fact, in 2009 Mayor Robertson enabled the destruction of 220 serviceable family homes at the BC Housing Little Mountain complex by granting a demolition permit, even though redevelopment and replacement is years—possibly more than a decade—away. Vision continued with the NPA's plans at Little Mountain and the privatization schemes to sell off public land continues. About 700 people, many of them long-term residents, lost their homes, and the site has been vacant now for two years. There is also an estimated $10m of lost rental revenue that would have been collected from the units if they had been left occupied. The cost of upgrading the units was estimated at $2-3 million.
The street homelessness count announced by the City was done just before the shelters closed for the summer in 2011. The number of street homeless is higher than in that count. The 4 low-barrier HEAT Shelters, capacity about 200 beds, have not been reopened. Some of the street homeless have gravitated to the Occupy Vancouver tent city for lack of a better alternative.
The shelters are one step in the right direction, but they are not a long term solution to housing people
Many of the policies for increasing development have increased speculation, land values and displacement of existing tenants that is increasing the problems of homelessness and rent inflation.
Development pressures created by development policies increase inflation from speculative flipping and make housing less affordable. Both Vision and the NPA have created policies that make housing less affordable through increased inflation.
NSV is an elector organization based on a network of individuals in neighbourhoods all over Vancouver. For five years, the network has provided extensive policy analysis and input City Hall regarding critical Council decisions. It is running five candidates for City Council in the November 19 election, including Randy Helten as mayoral candidate, and Nicole Benson, Marie Kerchum, Terry Martin, and Elizabeth Murphy as councillor candidates.
###
Contact: NSV Office, 604-730-6999, nsvancouver@hotmail.com
Web www.nsvancouver.ca
_____________________________________________
MEDIA RELEASE
NSV releases election campaign financing figures, challenges other parties to do the same
Vancouver, November 17, 2011

  Link to PDF of MEDIA RELEASE
Randy Helten, mayoral candidate for Neighbourhoods for a Sustainable Vancouver (NSV) today announced the figures for election campaign donations received by the elector organization from the start of the campaign to date. The total including cash and loans amounts to just under $38,000.
NSV is showing by example how Vancouver's civic parties should uphold the highest standards, accepting donations only from individuals, and screening all donations over $100 to avoid real or perceived conflicts of interest.
"The influence of political donations on Vancouver's civic political system is one of this city's most serious problems," said Helten. "If Vancouver can reduce the excessive influence of money from developers, unions, and special interest groups on our elected officials, we could do a better job of handling all the issues, including housing affordability and homelessness. The best thing voters could do on November 19 is to vote for those parties and candidates who are not tainted by large political donations from special interests." The funds disclosed by NSV are in stark contrast to the publicly announced targets of Vision Vancouver and the Non-Partisan Association (NPA). The graph compares likely totals for this year (estimated from various media sources).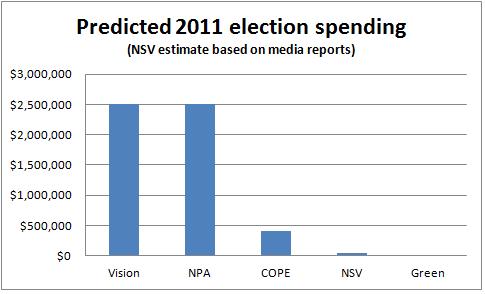 Both the NPA and Vision Vancouver have estimated that they will each raise about $2.5 million campaign funding largely from the development industry. Since the role of Council is to regulate land-use by approving what can be built, regulators should not be funded by those that they regulate. NSV is leading by example to remove this conflict of interest.
This disclosure of funds by NSV is a response to a challenge issued to all elector organizations from the general assembly of Occupy Vancouver dated November 14, calling for "the establishment of real transparency in municipal campaign finance by requiring candidates and parties to reveal their donors and amounts before, not long after an election is over—as is current practice….Occupy Vancouver challenges all municipal candidates to disclose the source of all contributions greater than $100, and make this information publicly available online by 11:59 pm Thursday, November 17, or be held to account by voters on Election Day."
NSV is an elector organization based on a network of individuals in neighbourhoods all over Vancouver. For five years, the network has provided extensive policy analysis and input to City Hall regarding critical Council decisions. It is running five candidates for City Council in the November 19 election, including Randy Helten as mayoral candidate, and Nicole Benson, Marie Kerchum, Terry Martin, and Elizabeth Murphy as councillor candidates.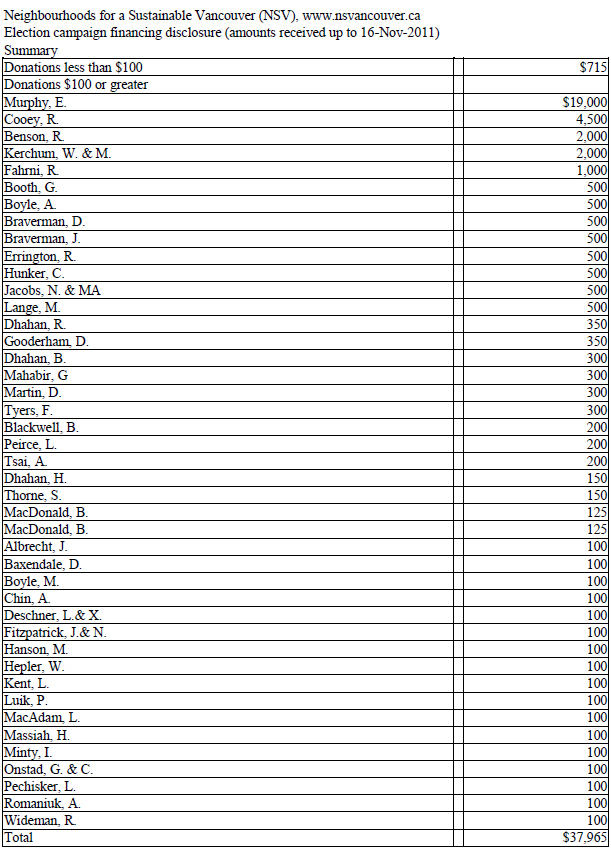 ###
Contact: Elizabeth Murphy 604-240-2344 Email: emurphy@nsvancouver.ca
Web www.nsvancouver.ca

Reference: Occupy Vancouver Challenge to Parties, November 14, 2011
_____________________________________________
MEDIA RELEASE
"Good sense – good faith" solution suggested for Occupy Vancouver and City of Vancouver
Vancouver, November 15, 2011

Link to PDF of MEDIA RELEASE
Randy Helten, mayoral candidate for Neighbourhoods for a Sustainable Vancouver (NSV) today offered a "good sense—good faith" solution for both sides to consider Occupy Vancouver (OV) and the City of Vancouver to consider, aware that other cities have been aggressively clearing out Occupy movement sites, and aware that on November 16 the BC courts are to hear the case brought forward by the City of Vancouver seeking an injunction to remove the "tent city" now located at the Vancouver Art Gallery.
"I sincerely hope that the City will not escalate this situation unnecessarily, and will instead show wisdom, good reason and good faith in the handling of this situation. It won't help anyone if the City goes in aggressively and creates a conflict," said Helten, "The current mayor should handle this in a way that will make us proud."
The five suggestions are as follows:
1) Encourage the City and Occupy Vancouver to negotiate a reduced but round-the-clock presence at the Art Gallery. This should include food and clothing distribution tents and at least several sleeping tents.
2) Encourage the OV participants to commit to a policy of peaceful coexistence and non-interference with other public events, such as celebrations, protests, etc., that have already been planned–or may be planned in the future–for the square.
3) Encourage the City to commit to providing reasonable security and assistance as needed, and to convene discussions with the OV participants in regard to use of the site and City policies that could be created or changed to address legitimate issues and problems raised by the OV movement.
4) Encourage the City to reopen four low-barrier HEAT shelters as soon as possible, and create additional ones if required. The OV Tent City is a consequence of insufficient shelter space because, despite winter conditions, the low-barrier shelters have not been reopened.
5) Encourage the City and Occupy Vancouver to agree upon a site in the downtown area for a temporary Tent City, with appropriate supports and services, to house those who cannot find space in a shelter until adequate (not overcrowded) shelter space is available. Tent Cities are a poor substitute for shelters, which are a very poor substitute for homes. But they are better for health and safety than the alternatives–doorways, garbage bins, remote industrial or park areas, etc.
###
Contact: NSV Office, 604-730-6999, nsvancouver@hotmail.com
Web www.nsvancouver.ca
_____________________________________________
MEDIA RELEASE
NSV announces recommended candidates from "rival" slates

Vancouver, November 4, 2011

  Link to PDF of MEDIA RELEASE
Neighbourhoods for a Sustainable Vancouver is pleased to announce our recommendations for an additional six City Council candidates to fill out the Council slate.
We are asking our supporters to consider voting for these candidates in addition to the five who are running under the NSV banner: Randy Helten (Mayor); Nicole Benson, Marie Kerchum, Terry Martin and Elizabeth Murphy (Council). https://nsvancouver.ca/nsv-candidates/
The additional candidates we recommend are:
. R J Aquino (COPE)
. Adriane Carr (Green)
. Sandy Garossino (independent)
. Tim Louis (COPE)
. Bill McCreery (NPA)
. Ellen Woodsworth (COPE)
(See bios and web links below)
NSV makes these recommendations with no strings attached. To our knowledge this is the first time that a Vancouver electoral organization has supported candidates running on a variety of competing slates without requiring a reciprocal agreement.
We do this enthusiastically because we do not view these candidates as rivals. Their records on council and in public life are exemplary, their platforms largely consistent with the principles and policies supported by NSV (https://nsvancouver.ca/about-us/principles/). They are strong advocates for real democracy, which should be free of undue influence from the powerful development lobby, whose main objective — maximizing profit — is in a fundamental conflict of interest with housing affordability and ending homelessness. They recognize that growth must come in ways that are community supported and that respect neighbourhood assets, character and scale.
"On behalf of the NSV Network, I look forward to working with these outstanding people on Council," said Randy Helten. "I know we have much in common, but there is diversity as well. Each of us has a different set of skills and life experiences, yet each is motivated by a genuine desire to fix problems and improve Vancouver for all of our residents in every neighbourhood."
A recorded video statement by NSV mayoral candidate Randy Helten will be available on the NSV website (www.nsvancouver.ca).
Biographies of other City Council candidates recommended by NSV
(Alphabetical order)
 R J Aquino (COPE) builds cultural bridges between ethnic communities. He has a strong business background. "We need a city that is affordable at every level. From new immigrants who want to bring their ideas and skills to our city, to our seniors who have spent their lives contributing to the city we all enjoy today.
http://cope.bc.ca/election2011/teamcope/aquino/
Adriane Carr (Green) Vancouver born and educated, Carr has a Masters degree in urban geography. She has taught at Langara, helped build the Western Canada Wilderness Committee and co-founded and led the BC Green Party. "There is enough capacity in current zoning bylaws to accommodate projected growth over the next few decades without the need for high rises where they aren't zoned and aren't wanted by local residents."
http://bettervancouver.ca/adrianesplatform.html
Sandy Garossino's varied life experience includes Crown prosecutor with special emphasis on youth and gangs, and management of three Metro cab companies providing employment for 250 people. She has sat on numerous boards including the SFU India Advisory Council, UBC Institute for Asian Research and Vancouver International Writers Festival. In 2011 she co-founded the Vancouver Not Vegas Coalition which successfully opposed Casino expansion at BC Place.
http://votesandy.ca/
Tim Louis (COPE), a practicing lawyer since 1984 and City Councillor from 1999-2005, is the co-founder of HandyDart and the BC Coalition of People with Disabilities. The former chair of the City Finance Committee is a firm believer in fiscal responsibility and accountability, exactly what we need to help put Vancouver's finances back in order. Louis advocates elected Neighbourhood Councils with control over large developments that have "a fundamental impact on the neighbourhood as a whole" to "force the developer to put forth a proposal that's not there for the benefit of just the developer but for the benefit of the community."
http://cope.bc.ca/election2011/teamcope/louis/
Bill McCreery (NPA) This former TEAM Parks Board Commissioner and member of City Council's False Creek Planning Committee has practiced architecture in Vancouver for 38 years and is the recipient of numerous design and heritage awards. He co-authored "Ferry Crossing of Burrard Inlet" leading to our Sea Buses. In recent years his extensive knowledge of urban design has helped residents in the West End, Mount Pleasant, Marpole and Eastside neighbourhoods evaluate development proposals. McCreery helped expose Vision Vancouver's STIR program as an affordability fraud that subsidizes developers up to $100,000 per unit for high-end rentals.
http://www.billmccreery.com/page/meet%20bill.aspx
Ellen Woodsworth (COPE) is one of the hardest working Councillors Vancouver has ever known. She has served as Vice-Chair of the Finance Committee and representative to the Union of BC Municipalities and the Lower Mainland Treaty Advisory Committee. Others on Council are eager to claim credit for combating homelessness, but Woodsworth has been the conscience and driving force. She shares NSV's support for community voice in decision making and has been a strong advocate for the aspirations and concerns of  residents from Hastings-Sunrise to West Point Grey.
http://cope.bc.ca/election2011/teamcope/woodsworth/
_____________________________________________
MEDIA RELEASE
Neighbourhoods for a Sustainable Vancouver (NSV) enters 2011 civic election race with five candidates (Randy Helten for Mayor)

Vancouver, October 20, 2011

Link to PDF of MEDIA RELEASE
Elector organization Neighbourhoods for a Sustainable Vancouver (NSV) announced today that it will be running five candidates in the November 19 civic  election. Randy Helten runs for mayor, and Elizabeth Murphy, Terry Martin, Marie Kerchum, and Nicole Benson, for councillor positions.
Media Briefing
Monday, October 24, 2011, 9:15 a.m. (for 15 minutes)Vancouver City Hall (south steps, at 453 West 12th Ave)
NSV is an organization of individual electors from neighbourhoods across Vancouver that pledges to restore "real democracy" to City Council. With real democracy, our City can handle all of its challenges better. We believe municipal government, which has exclusive control over land use and development, should operate in the interest of all residents and stakeholders in Vancouver. Those who regulate development should not be politically funded by the interests they regulate. NSV only accepts donations from individuals, not special interests.
NSV supports sustainable development in a scale, pace and form that protects affordable rental housing, heritage buildings and neighbourhood character, implemented through genuine grassroots neighbourhood-based planning processes.
Decision-making at City Hall must be fixed to eliminate conflicts of interest and ensure that communities have genuine opportunities and a greater say in determining their future composition and character. Vancouver deserves a new alternative to the entrenched political parties in this City.
NSV is endorsing a diverse team of individuals—not career politicians, but committed, capable residents – who want to serve the public interest and are committed to the principles outlined on our website www.nsvancouver.ca
Randy  Helten, NSV candidate for  mayor, envisions Vancouver as a leading twenty-first century city—sustainable in  every way, including socially, environmentally and economically. He founded CityHallWatch and MetroVanWatch to help  empower citizens to engage our civic and regional governments and hold them  accountable.
Elizabeth Murphy, a proponent for neighbourhood-based planning processes, has experience with CityPlan Community Visions program and community groups. A businesswoman with a professional background in the private and public sectors,  she will bring a balanced approach to City Hall.
Terry Martin has a diverse background, including being former Chair of the Vancouver Board of Variance. With experience in small business and mental health work, he has in- depth knowledge of many civic issues and the ability to be an effective and knowledgeable advocate for all people and neighbourhoods of Vancouver.
Marie Kerchum served in an executive capacity as Registrar and Deputy Registrar for the BC College of Teachers for more  than 17 years. Her experience with that regulatory body for the teaching  profession, gave her a thorough understanding of issues of good governance in
the public interest.
Nicole Benson is an activist for both social and environmental justice, and is involved in several non-profit organizations and community groups. She believes in transparency and accountability at all levels of government and advocates for greater citizen participation in the political process.
Contact: Terry Martin, Mobile 778-316-8993
Email nsvancouver@hotmail.com
Web www.nsvancouver.ca
Twitter @nsvancouver