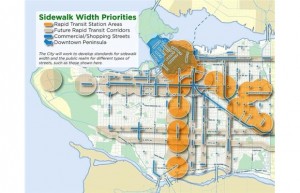 Caption: This map of rapid transit station areas and corridors appears in Appendix A of the City of Vancouver's Transportation 2040 Report to Council of Oct. 30, 2012. The final report map defines rapid transit station areas and future rapid transit corridors, covering the majority of the surrounding neighbourhoods for potential transit-oriented development. This was not in the draft for consultation.
Transportation 2040 report fatally flawed : Both the funding model and land-use planning strategy take power away from municipality
By Elizabeth Murphy, op ed on November 21, 2012, in the Vancouver Sun. 
This story appeared on 21-Nov-2012 as an op ed in the Vancouver Sun, written by Elizabeth Murphy, an urban affairs commentator. She was formerly a property development officer for the City of Vancouver's housing and properties department, senior development officer for BC Housing and private-sector project manager. Read full story here. Below is opening of the article, at at bottom are references not included in the print or online version.
The City of Vancouver recently approved the city staff policy report on Transportation 2040. Although presented as a transportation policy document, it is in fact the long-term land-use plan that will direct future development and inform the upcoming regional context statement required under the regional growth strategy.
Public transit is a very important part of the city's infrastructure and needs to be expanded. However, the city's transportation policy has been transformed into a development regime and cash cow for TransLink at city taxpayer expense.
In summary, Transportation 2040 is not about transportation, affordability or environmental sustainability.
Transportation 2040 is:
Based on the flawed "Hong Kong model" of funding transit with development, thus creating a provincial tax grab on civic taxpayers with a complicit city hall that is not looking out for the civic public interest; and
 A land-use plan with provincial override of civic land-use authority.
Transit-oriented development has merit. However, the location and scale of development should be under the full control of the city and in context with local community plans. Civic developments should never be dictated by the province to fund TransLink or any other provincial responsibilities.
These two aspects of the plan are explained as follows:
THE HONG KONG MODEL
The city's Transportation 2040 is a major step in a big development play started by the BC Liberals under Gordon Campbell and Kevin Falcon shortly after they were elected a decade ago. Their objective was to use the Hong Kong model of funding transit with development. This model is continuing under Premier Christy Clark.
The Hong Kong model means TransLink can fund transit through buying land and entering into Public-Private-Partnerships (P3s) using the land lift (property value increases) from rezoning or charge fees on any development within an area near transit stations.
*****************
RELATED REFERENCES (not included in print or online version in the Vancouver Sun.)
"Vancouver Transportation 2040″ – Final Oct. 30, 2012
http://former.vancouver.ca/ctyclerk/cclerk/20121030/documents/rr1.pdf
(This article's original map can be accessed from this link.)
Vancouver Sun – Translink's $1.5B real estate empire (19-Mar-2008)
Metro Vancouver's transportation authority is launching a real estate division that could produce up to $1.5 billion in revenue over the next 10 years, modelled on an agency that has reshaped Hong Kong.
http://www.canada.com/vancouversun/story.html?id=e30465a4-f77a-400a-88b9-dd0722f1b559&k=44798