By Elizabeth Murphy, Special to The Vancouver Sun
Excerpt: Improving housing affordability and building rentals are important priorities. However, rezoning policies resulting from the Mayor's Task Force on Housing Affordability will not provide affordable housing. The policies will instead increase inflationary land speculation, which is the main cause of the affordability crisis in Vancouver, and will put existing older affordable rentals at risk of demolition.
Vision's Mayor and Council approved the city-wide rezoning policies on October 3. They were immediately implemented without any public consultation on these specific initiatives. (The policies were opposed by Councillors Carr, Affleck and Ball after Carr's motion to delay for public consultation was voted down by Vision.)
Read more: http://www.vancouversun.com/business/fp/yourmoney/policies+will+make+Vancouver+housing+affordable/7411346/story.html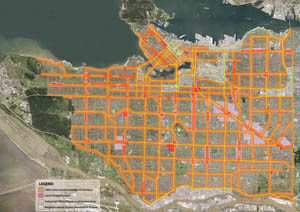 Orange coloured areas on the airphoto illustrate the 100m zone impacted around arterials (as specified in the Interim Rezoning Policy). Map courtesy of CityHallWatch.ca, please click to enlarge.
---
Elizabeth Murphy is a former property development officer for the City of Vancouver's Housing & Properties Department; she ran for councillor with Neighbourhoods for a Sustainable Vancouver (NSV) in the 2011 Vancouver civic election.