Bethany Lindsay, Oct. 24, 2011 3:21 PM PT
ctvbc.ca
A new political party is elbowing its way into Vancouver municipal politics, promising to limit the power of real estate developers.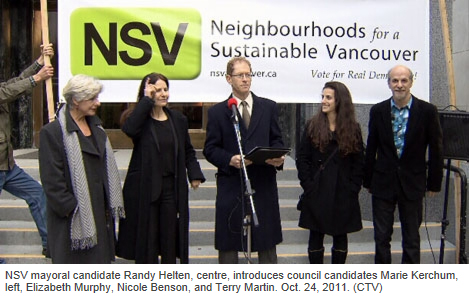 West End housing activist Randy Helten announced Monday that he is running for mayor as the leader of the nascent Neighbourhoods for a Sustainable Vancouver, which will also field four candidates for council.
"We are a real alternative to NPA and Vision Vancouver," Helten told reporters.
"These organizations have dominated city politics for many years, but they are heavily funded by the development and real estate industry. We are not."
However, Helten is also a member of the ruling Vision Vancouver party, according to the NSV website.
The freelance Japanese-English translator says he was the target of an expletive-laden rant from Gregor Robertson in the summer of 2010, when the mayor was caught on video disparaging speakers at a council meeting.
Not realizing his microphone was still on, Robertson asked Vision Vancouver councillors Heather Deal and Tim Stevenson: "Who are all these f*cking hacks? Are these all NPA hacks?"
Helten was at the meeting as part of the West End Neighbours, a group rallying against the city's Short Term Incentives for Rental Housing (STIR) program. Robertson later apologized for his remarks.
On Monday, Helten said the mayor's remarks were symptomatic of a government that is "not listening to people."
He said that he is still deeply concerned about STIR, which offers developers incentives to build rental homes. He pointed to the Alexandra English Bay condo tower under construction at the corner of Davie and Bidwell streets, where three out of 29 floors will be devoted to rentals.
Those units, according to Helten, will be far from affordable.
"It's not affordable housing — it's top of the end market-priced housing," he said.
The NSV slate also includes Elizabeth Murphy, a businesswoman with experience in the city's housing department, teacher Nicole Benson, education administrator Marie Kerchum and renovation contractor Terry Martin.
Helten said he hopes the new party will be "a breath of fresh air for the people of Vancouver."
In response to the new party's claims, the mayor defended his party's record on housing issues and neighbourhood consultations.
"We have a rigorous process with public hearings. It's a long-tested process," Robertson told reporters.
"I think we all recognize we have a shortage of housing, particularly affordable housing and rental housing. We've got to use all the tools we can."
He also suggested that the city would be shooting itself in the foot by shouldering out developers.
"Vancouverites want to see more housing and more affordability, and we don't get that by basically shutting down the construction industry," Robertson said.