Nicole Benson of Neighbourhoods for a Sustainable Vancouver is campaigning for hyper-local democracy
Ben Christopher, November 9, 2011
www.thetyee.ca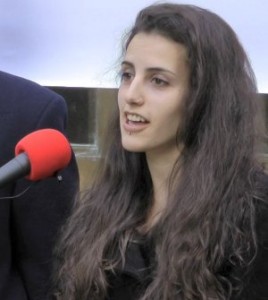 When Nicole Benson posed for her official campaign photograph, she removed her steel lip stud. But it's back in when she's on Vancouver's streets campaigning for a seat on city council. The piercing just reinforces what Benson wants voters to know about the political organization she represents, Neighbourhoods for a Sustainable Vancouver (NSV). "None of us are career politicians," she says.
"What unites us," adds Benson, "is our passion for community-level decision making, participatory democracy and freedom from any undue influence — from big development companies or anybody else."
Benson and NSV arrive on the election scene as the Occupy movement villainizes ties between wealthy businesses and political parties who must raise serious money to stay in the game. In Vancouver, winning that game has proven nigh impossible without cash from the realtors, marketers and builders who are in the business of transforming neighbourhoods. But with their focus on hyper-local decision making, Benson and her NSV colleagues are hoping the public is eager to see the game played by new rules.
The Oaxaca connection
She may proudly declare herself inexperienced in matters of official party politics, but Benson is hardly new to political involvement. Sitting on the board of directors of the human rights organization, Co-Development Canada, she also volunteers for CIPO-VAN — an organization supporting indigenous land rights in Oaxaca.
After obtaining her degree last April and embarking upon a career as the owner of a small Spanish language teaching school, Benson began to take a keener interest in local politics. Here she says she found an unlikely similarity between southern Mexico and Vancouver.
"There's very much a parallel between communities in Oaxaca that want to have their own say and a voice and a seat at the negotiating table — between those communities that are being completely ignored — and here."
The parallel shouldn't be overstated, Benson admits. Protesters of Vancouver's zoning policy are not receiving physical threats from municipal bureaucrats. Instead, Benson says she sees a familiar aversion on the part of city hall to foster an open dialogue with local communities around issues of development.
"There's a lack of consultation," she says. "I don't have faith in the current council to consult with Vancouverites about the future of the city."
From EcoDensity to STIR
Tracing its genealogy back to the Sam Sullivan administration, NSV was formed when a network of residential tenants associations and other neighborhood groups banded together in opposition to the former mayor's EcoDensity plan. Endorsing Vision and COPE before the last election, NSV has since fallen out with the mayor and his party over what Benson calls a continuation of Sullivan's pro-development policies.
What Sullivan's NPA once tried to achieve under the trademarked brand of "EcoDensity," Benson says, Robertson has continued with various rezoning initiatives, bylaw changes and, most reviled of all, the Short Term Incentives for Rental Housing (STIR) program.
STIR, which provides tax breaks, fee waivers and other incentives to developers of rental units, is based on the logic that more rental supply of any kind will drive down rents across the market. But with no requirement that STIR-supported units be rented at affordable rates, Benson calls the program little more than a tax-subsidized giveaway and further incentive for property developers to demolish affordable housing and heritage buildings.
"STIR simply allows the city to override community plans in the name of density and affordable housing," she says. "We need to have more participation and involvement in what happens in our communities."
In practice, more participation and involvement would mean city hall opening permanent lines of communication with community groups and giving precedence to local development plans in all matters of civic planning.
"This is about changing the culture at city hall," says Benson. "There are already community plans, many of which were made in the '90s. But the ideas just get ignored."
Not in my backyard
The NSV mayoral candidate, Randy Helton, got his start as a community organizer against "spot rezoning," heritage building demolition and highrise development in Vancouver's West End. Helton achieved an odd kind of prominence last year when he and his group of like-minded activists, the West End Neighbours (WEN), were infamously badmouthed by the mayor during a late night council meeting. Speaking to his fellow Vision councilors before an inopportunely live microphone, Robertson gave Helton's WEN what is inarguably their more widely recognized sobriquet — those "fucking NPA hacks."
More articulate critics at the time dismissed Helton's West End anti-condo crusade as NIMBYism cloaked in progressive social values. As Vision partisan Ross Jonathan wrote in the Vancouver Sun at the time, "No neighbourhood should have the unilateral ability to opt out of contributing to a healthy, sustainable and inclusive city."
Or, to offer a specific example: Once the city acknowledges the need for additional social housing to shelter those recently off the street or out of prison — which Benson supports — which neighbourhood will volunteer to be the host?
But according to Benson, there is no necessary trade-off between community empowerment and smart planning for the entire city.
"We trust in the people of Vancouver to understand that we have diversity here and that we need to make room for people of all different walks of life," she says. "Any kind of community plan would have to be within certain parameters. But even the development of those parameters is something we would want public consultation on."
Communities may disagree, she admits. What's important is that no one interest group has disproportionate sway over the decision making process. She is, of course, not speaking in the abstract. She is talking about developers.
"We're not anti-development at NSV," she says. "We just think that developers need to be one member at the table among many."
Follow the money
If neither Vision Vancouver nor the NPA are listening to average voters, says Benson, the reason is obvious: Average voters don't fund Vision and NPA campaigns.
"NSV doesn't take any financing from development companies or any large private interests that might influence our decision making," she says. "It's clear that Vision Vancouver and NPA received a lot of funding from development companies during the last election."
Patrick Smith is a political science professor at SFU who has made his academic career of trawling through campaign financing records, much to the chagrin of city clerks across the province.
"In this case, the money speaks a lot," he says. "If you look across the range of contributions and you try to group them broadly, the property development and construction business is the largest collective group of contributors."
Be that as it may, Vision's executive director, Ian Baillie, insists that there is no quid pro quo relationship between campaign donors to his party and the candidates they support.

"The backbone of accountability is the disclosure process," he says. "The fact is, we're the only party that has disclosed our financial records since the election. No other party has done that."
Under provincial law, municipal political parties are required to make donation and spending information available to the public within the first 120 days after election day. Following the election this year, current candidates across B.C. will have until March 19, 2012 to submit their financial records to their respective municipal clerks. After that, there are no additional disclosure requirements.
For its part, says Ian Baillie, Vision has pushed the province to implement contribution limits and more rigorous transparency standards across B.C.
"In the meantime, we follow the rules that are in front of us."

The B.C. free-for-all
On a list of principals published on their website, the NSV declares its intention to restrict campaign donations to individuals, limit the size of contributions, mandate ongoing full disclosure of campaign contributions and consider public financing of campaigns.
"We want to look at the issue of campaign financing and we want to look at having much smaller scale elections," says Benson. "These are different ways we might be able to weed out the big corporate spending on campaigns."
But according to Patrick Smith, city halls can only do so much weeding on matters of campaign finance. The rules that regulate how much money can be collected or spent by or on behalf of political parties and candidates are made and enforced at the provincial level.
That's unlucky for us, says Smith.
"We're essentially where we were in 1880," he says. "To make an absurd point, it would be possible for the President for Life of North Korea to give a candidate for mayor in Vancouver $5 million. There's nothing in the law that doesn't allow for that and the only time that people would find out about it would be six months after the election."
Equally laissez-faire across the province, this lack of regulation and transparency is all the more evident — and potentially worrisome — in a city with the population and political structure of Vancouver's. Without a ward system, which would reduce the size of each contest, there are over 90 candidates running for 27 available positions at Vancouver city hall. One of the few ways for a candidate to stick out in such a crowded field — short, perhaps, of being publicly cursed at by the mayor — is to outspend the competition on advertising. And advertising can be very expensive.
With such little regulation, there is obvious reason to worry that campaign cash — from large development companies or elsewhere — can influence electoral outcomes and, worse yet, policy. But equally toxic for a healthy democracy, says Smith, is the mere perception, true or not, that such corruption exists.
"The idea that four months from November people will find out about campaign contributions through some unaudited statement is a blight on our local democracy," says Smith. "Money matters and that impacts on trust in government."
Running against a broken system
That basic lack of trust in city hall's ability to impartially govern is exactly what NSV is building its campaign upon.
"NSV is really about public input and that's why I'm with this organization," explains Benson. "I really believe in their mandate for participatory forms of democracy where citizens actually have a say in the decision-making."
That is, according to Benson, in notable contrast with the current system in which citizens do not have a say. Hoping to ride a groundswell of political disillusionment to city hall, the central tenant of Benson, Helton and NSV's philosophy — that important decisions around development should be made at the neighbourhood level — is premised on a fundamental skepticism about the current political and electoral systems.
Luckily for them, distrust in the system has never been higher.