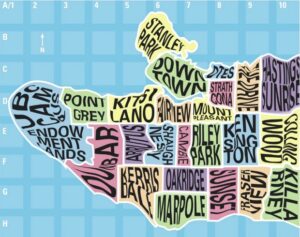 On Neighbourhoods for a Sustainable Vancouver, Adriane Carr and Sandy Garossino
Jeff Lee
November 5, 2011
Vancouver Sun
In any civic election there are always well-meaning issue-oriented candidates who, regardless of their issue, stand little chance of getting elected.
In Vancouver, that's particularly the case because of the powerful strength of entrenched parties. That's Vision Vancouver, the Non-Partisan Association and the Coalition of Progressive Electors. This is a tough city to break into as an independent or even as a fledgling party. Vision Vancouver can tell you that; they had to start with a revolt from within COPE after Larry Campbell swept all the council, park board and school board seats in 2002 but was soon on the outs with councillors like Tim Louis and Fred Bass.
That's why it's so intriguing to see the new kids on the block, Neighbourhoods for a Sustainable Vancouver, not only mount a five-candidate team, but also come out and endorse candidates from two of the other parties, as well as two independents.
NSV is the outgrowth of Mayor Gregor Robertson's infamous F-bomb comment at the end Vision's ramming through a West End advisory committee that – at least to residents – appeared to ignore local concerns. Randy Helten, one of those who engendered the mayor's ill-timed and recorded comments, is running for mayor. (If you've forgotten about that comment, the City Hall video is linked below.)
Helten's party also has Marie Kerchum, Terry Martin, Elizabeth Murphy and Nicole Benson trying to get seats on council. They're on a restricted-growth bent, with a strong message about the need to consult with neighbourhoods. They see Robertson and Vision Vancouver as running roughshod over all of the city's neighbourhoods, not just the West End.
Like all newcomers, they're having a tough time getting media attention because the big parties suck up all the oxygen. But they are stalwart attendees at all-candidates meetings, selling their message well. They don't seem to be going away any time soon.
On Friday, just about the time most media were focussed on the staring contest between Occupy
Vancouver campers and Fire Chief John McKearney, NSV announced a list of other party candidates they support. (Note to NSV: Fridays are not great days for getting media attention, and someone should have been aware of McKearney's 10 am deadline to OV.)
NSV says its voters should also consider supporting the three COPE candidates, RJ Aqino, Ellen Woodsworth and Louis. Helten at one point had been courted by COPE. NSV also likes Green Party candidate Adriane Carr and independent Sandy Garossino, who led the successful Vegas Not Vancouver! anti-casino fight.
They've reserved a spot for former TEAM councillor and now NPA candidate Bill McCreery, who's made a point about what he views as poor planning and neighbourhood consultation.
Not surprisingly, NSV has no goodies for Vision. What is also surprising is that Helten's crew also didn't endorse the NPA's Sean Bickerton, who also led a stiff fight against Paragon Gaming's casino expansion and is a member of the False Creek Residents Association. He shares more in common with NSV than most, although he may not appreciate me pointing that out.
But I guess it all comes down to math: that would have made 11 endorsements for 10 seats on council.
I don't know what NSV's endorsements will mean to COPE, but Garossino and Carr have to be happy. Garossino's got some powerful support behind her, with the formidable May Brown, the former TEAM councillor and NPA Mother Hen, at the head of the list. The word of Brown, whose telephone tree organization was often key to the NPA's success, has got to be worth 20,000 votes on her own. McCreery may feel like he's just been damned with faint praise.
Meanwhile, Carr, I am told, is tracking fairly high in internal polls by some parties, and if that is true that must be scaring the daylights out of Vision Vancouver and COPE, who have power-sharing agreement that has kept the normally vociferous Louis from telling people what he really thinks about Vision. (That hasn't stopped him in the past but it does seem to now.)