Ned Jacobs, November 15, 2011
Straight.com
I will be voting for Randy Helten for mayor and the council candidates endorsed or recommended by Neighbourhoods for a Sustainable Vancouver (NSV).
But first, here is why I will not be voting for Gregor Robertson, Suzanne Anton, Vision Vancouver, or NPA city council candidates (with one exception).
When it comes to ending homelessness and improving housing affordability, Mayor Robertson and Vision Vancouver have had more bark than bite. Provincially funded HEAT shelters, SROs, and supportive housing on city-owned sites were largely due to relentless pressure from the low-income community and COPE councillors. The supportive housing and SRO acquisitions were facilitated by the previous NPA-led council.
More than 60 percent of the residents relocated to supportive housing to date were not actually homeless, though many lived in substandard housing. As hotel residents are relocated, the SROs are emptied and converted to pricey bachelor units, or the rents are jacked—usually several hundred dollars above the $375 that welfare provides.
Provincial funds for supportive housing were obtained at a terrible price when Robertson allowed himself to be coerced into approving the premature and needless demolition of 220 homes at Little Mountain. Now, two years later, the site is still 15 acres of wasteland. There are no redevelopment plans in place and the secret deal between B.C. Housing and their private partner is dead in the water because they are now insisting that the city should subsidize the replacement units by forgiving amenity contributions.
The statistics for street homeless that Robertson is fond of quoting were collected last spring before the shelters closed. Four of the seven HEAT shelters have not reopened, and hundreds of homeless folk are living rough in inhumane conditions or populating the Occupy Vancouver tent city. A growing number of hard-working residents "couch surf" with friends or are just one paycheque from homelessness.
Vision's Short Term Incentives for Rentals (STIR) addresses neither homelessness nor affordability. I was one of a handful of community advocates present when the mayor unveiled STIR to a roomful of developers. He repeatedly stressed that it was conceived as an "economic stimulus" for their industry—and that is all it will deliver. The high-end market rentals produced with STIR incentives must be subsidized by Vancouver taxpayers up to $100,000 per unit. Moreover, STIR has served as an excuse to override carefully defined design guidelines that are crucial to maintaining the West End's livability.
In a recent debate from which NSV's Helten was barred, Robertson and Anton agreed that market rentals cannot be produced without incentives. This is false. A city-wide inclusionary policy that requires rental units in all multi-family developments (below market where there is rezoning), will compel developers to reduce the exorbitant sums they are currently shelling out for building lots. Over time, this could significantly improve the city's rental supply and help constrain speculation—a genuine win-win for Vancouver.
COPE, NSV, and the Greens' Adriane Carr know that it doesn't need to be a choice between the developers' way and the alleyway, but they lack funds (and media support) to effectively educate voters about these complex issues. Because municipal political donations cannot be deducted from income taxes, vested interests are happy to fill the vacuum—with Vision and NPA the beneficiaries. Mainstream media, such as the Sun and Province newspapers, are biased in their coverage, in part because the real estate/development industry is the source of much of their ad revenue.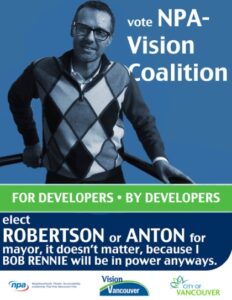 This anonymously produced bit of satire [left] wafted through the ether just as council once again waived the requirement that major projects requiring rezoning must devote 20 percent of their land value to non-market housing. The huge upzoning at Kingsway and Boundary will allow Peter Wall to sell 1,114 units. None will be rented below market; in fact, none will be purpose-built rentals—just condos. Another wasted opportunity.
COPE's Ellen Woodsworth opposed that sweetheart deal, as she has many others, but is helpless against the Vision-NPA axis. In my view, the non-aggression pact that an understandably conflicted COPE signed with Vision has forced COPE to downplay differences that reveal why Vancouver is unable to create significant affordable housing while land owners and developers laugh their way to the banks, and our mayor promotes Vancouver real estate in Beijing.
What lies ahead is even more ominous. Without meaningful support on council, COPE could be the unwitting—and ultimately unwilling—accomplice to the dismantling of Vancouver's Property Endowment Fund, established in the 1970s by the truly visionary TEAM council. I don't think the PEF should be viewed as sacrosanct, but turning over public property to private partners is a slippery slope that could easily result in a developer-beholden council frittering away the PEF and obtaining relatively little in the way of truly affordable housing for those who desperately need it.
A consequence of the vast amounts of upzoning approved by the current council is that developers will have to be offered very sweet deals on city-owned land to entice them to bite. I hear talk of 50-storey towers with lower-storey rentals and upper-storey condos. Towers are among the least energy-efficient buildings; they cast huge shadows, increase wind at street level, and, in Vancouver, nearly always block highly valued public views.
Under a Vision or NPA-led council the "leveraging" of city property would be like STIR on steroids: spot rezonings that bear little resemblance to community plans and set inappropriate development precedents in neighbourhoods throughout the city. We must not let this happen!
Human nature abhors a vacuum. Into this gaping breach of public interest has stepped Randy Helten, who is one of the finest human beings that I have been fortunate to meet and work with, and the kind of leader that voters always say they want but very seldom get. Randy is impressed by conviction, integrity, and sound ideas, not power, prestige, and spin. He is also energetic, resilient, and a caring, humble person. He has lived and worked in Asia, is a top-notch language translator, at ease with people of different cultures and lifestyles.
Helten cofounded and led West End Neighbours, which has collected more than 13,000 signatures opposing several dreadful STIR proposals. He didn't just complain about lack of transparency in our Vancouver and Metro governments, and poor media coverage of important issues; he founded CityHallWatch and, when serious problems with the Regional Growth Strategy came to light, MetroVanWatch.
Randy would be a superb mayor because he has the guts to stand his ground when necessary and the good sense to compromise when it would be constructive. A council whose members are not all bound to one or two developer-beholden parties, and who share a commitment to Real Democracy (the NSV campaign motto), would truly shine with Helten at the helm.
Here are the city council candidates that will get my vote (in reverse alphabetic order for a change):
• Ellen Woodsworth (COPE): The two-term councillor has served as vice chair of the finance committee, representative to the Union of B.C. Municipalities and the Lower Mainland Treaty Advisory Committee. She has been the driving force on council in the homelessness struggle. Ellen truly supports community voice in decision making and has been a strong advocate for the aspirations and concerns of residents from Hastings Sunrise to West Point Grey.
• Elizabeth Murphy (NSV): Many council decisions involve land use and development. No candidate on any slate can match Elizabeth's broad understanding of land economics. In the 1980s she was a consultant to the Ministry of Transportation and the B.C. Buildings Corporation. In the 1990s she worked for the City of Vancouver housing and properties department, and for B.C. Housing as a senior projects development officer. Since 1996 she has been an independent businesswoman. Elizabeth Murphy is an incredibly hard worker, and a passionate advocate for protection of affordable rental housing, heritage, and green zones.
• Bill McCreery (NPA): This former TEAM parks board commissioner and member of the False Creek Planning Committee, has practiced architecture in Vancouver for 38 years and is the recipient of numerous design and heritage awards. He co-authored "Ferry Crossing of Burrard Inlet", that conceived our SeaBuses. In recent years, Bill's knowledge of urban design has helped residents in many Vancouver neighbourhoods evaluate development proposals.
• Terry Martin (NSV): He's a former chair of the Vancouver Board of Variance. On council he will work to reinstate the Third Party Appeal process, which for nearly 50 years provided a much-needed check and balance on development decisions. He has been the owner of several small businesses and a renovation contractor for 20 years. Terry's work in the mental health field has made him acutely aware of the ghettoization of mental patients which in turn has caused a dramatic increase in homelessness.
• Tim Louis (COPE): A practicing lawyer since 1984, and city councillor from 1999 to 2005, Tim is cofounder of HandyDart and the B.C. Coalition of People with Disabilities. The former chair of the council finance committee is a firm believer in fiscal accountability, exactly what is needed to put city finances back in order. Louis advocates elected neighbourhood councils with control over large developments that have "a fundamental impact on the neighbourhood as a whole" to "force the developer to put forth a proposal that's not there for the benefit of just the developer but for the benefit of the community".
• Marie Kerchum (NSV): Marie attended UBC and holds a master's degree in educational administration. She served in an executive capacity as registrar and deputy registrar for the B.C. College of Teachers for more than 17 years, assisting a 20-member board with the processes of strategic planning, policy development, and bylaw formulation, and was responsible for ensuring all college operations remained within a defined budget. Marie is particularly interested in bringing her experience and knowledge about good governance in the public interest to city council.
• Sandy Garossino (independent): Sandy was a Crown prosecutor with special emphasis on youth and gangs, and has managed three Metro cab companies providing employment for 250 people. She has served on numerous university and arts boards including the SFU India Advisory Council, UBC Institute for Asian Research, and Vancouver International Writers Festival. In 2011, she cofounded the Vancouver Not Vegas Coalition which successfully opposed casino expansion at B.C. Place.
• Adriane Carr (Green): Adriane earned a master's degree in urban geography under the legendary Walter Hardwick, the TEAM councillor who was instrumental in stopping the freeway, developing False Creek and Granville Island, and creating the Property Endowment Fund. Adriane helped build the Western Canada Wilderness Committee and cofounded and led the B.C. Green Party. "There is enough capacity in current zoning bylaws to accommodate projected growth over the next few decades without the need for high rises where they aren't zoned and aren't wanted by local residents," Adriane says.
• Nicole Benson (NSV): Nicole recently completed a master of arts in education at UBC. She is the founder of Esperanza Education, a small business dedicated to language training for intercultural communication and cooperation. An activist for both social and environmental justice, Nicole is also involved with several nonprofit organizations working in human rights and education. She is currently serving her second term on the board of directors for CoDevelopment Canada and organizes the "Spanish for Social Justice" teacher network. This brilliant and mature 27-year-old will bring a much-needed youth perspective to council.
• RJ Aquino (COPE): Vancouver is both a city of neighbourhoods and of immigrants. RJ, who was raised in San Francisco, is the cofounder of Tulayan, an organization that builds bridges between the Filipino community here and abroad and with other communities in Vancouver. He also has a strong business background. "We need a city that is affordable at every level. From new immigrants who want to bring their ideas and skills to our city, to our seniors who have spent their lives contributing to the city we all enjoy today."
So there it is: the NSV "Dream Team"—a Vancouver city council built not from political rivalry, but community collaboration. You may say that I'm a dreamer—but I'm not the only one!
In closing, I'd like to address a comment that "a vote for Helten is a vote for Anton". I don't think this is true. The Helten-NSV stands on fiscal accountability, community voice, and meaningful support for small business appeal to disgruntled NPA supporters as much as they do to disenchanted Vision voters, and there are plenty of both. More important, Randy and NSV will bring voters to the polls on November 19 who otherwise would have stayed at home.
Some years back, my smart old mother told me she had sworn off strategic voting. "Every time I've voted for someone I didn't like, and they won, I've been badly disappointed." She went on to say, "A lesser evil is still too evil to support," and that strategic voting is "both a cause and symptom of decline".
"I don't have many votes left," she said, "so from now on I'm only going to give them to the people that I think would really do some good."
Ned Jacobs is an urbanist, environmentalist, and community advocate, and serves on the Neighbourhoods for a Sustainable Vancouver steering committee. His "smart old mother" was Jane Jacobs, author of The Death and Life of Great American Cities, Dark Age Ahead, and numerous works on economies, ethics, and ecology.